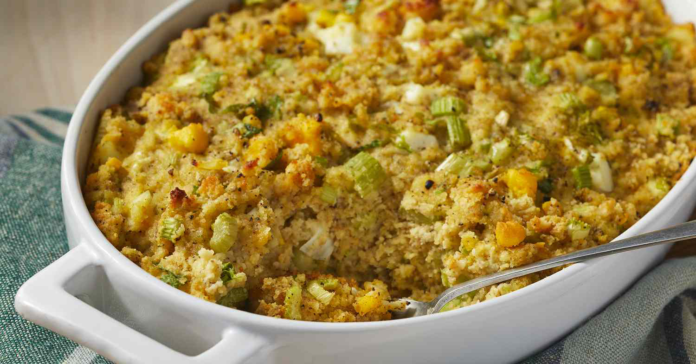 Cornbread Dressing Recipe
Cornbread Dressing Recipe belongs to the category of side dishes or stuffing recipes. It is commonly prepared as part of Thanksgiving or holiday meals in many Southern and American cuisines.
Cornbread Dressing Recipe detail
Serving: 4
Calories: 2000
Cooking time: 1 hour
Ingredients:
1 9-inch pan prepared cornbread
5 slices wheat or white bread (crumbled up into small pieces)
2 onions
2 bell peppers
1 stalk celery
4 tbsp sage
4 tbsp poultry seasoning
1 1/2 tbsp celery seeds
1 can cream celery soup
1 stick margarine or butter
2 cans of chicken broth or stock
Seasoning salt (to taste)
Pepper (to taste)
3 eggs

Directions:
Preheat the oven to 325 degrees Fahrenheit.
In a large bowl, combine the diced onions, bell peppers, and celery.
Add the crumbled wheat or white bread, crumbled cornbread, sage, poultry seasoning, celery seeds, cream celery soup, butter, pepper, and seasoning salt to the bowl.
Mix all the ingredients together until well combined.
Beat the eggs in a separate bowl, then add them to the mixture and mix thoroughly.
Grease a 9-inch baking pan with 1/2 stick of margarine.
Pour the dressing mixture into the greased pan, spreading it evenly.
Bake the dressing in the preheated oven for about 45 minutes to 1 hour, or until it turns brown on top.
Once done, remove the dressing from the oven and let it cool slightly.
Serve the Cornbread Dressing with cranberry sauce.
Please note that cooking times may vary, so it's advisable to keep an eye on the dressing as it bakes to ensure it reaches the desired level of browning.