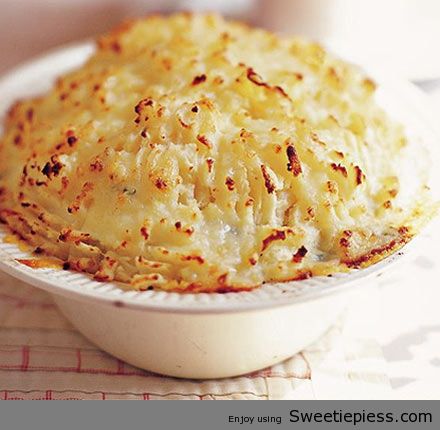 Ingredients
1kg potato , cut into large chunks
150g butter
750ml milk
700g skinless white fish
2 bay leaves
100g prawns , cooked and peeled
3 eggs , hard boiled and quartered
60g plain flour
small bunch parsley , chopped
100g grated cheddar cheese
method :
Heat the oven to 180C/fan 160C/gas 4. Simmer the potatoes for about 20 minutes until tender, then drain and mash with half the butter and a little milk. Season.
Meanwhile, bring the rest of the milk to a simmer in a frying pan, add the fish and bay leaves, cover and cook for 6-8 minutes. Remove the fish (keep the poaching milk) and flake into a dish, sprinkle the prawns and egg on top.
Melt the rest of the butter in a pan, add the flour and mix, then gradually add 300ml of the poaching milk, mixing constantly until all the milk has been absorbed. Bring to the boil and simmer for a couple of minutes then take off the heat and mix in the parsley. Season. Pour over the fish and prawns. Spoon the mash over so it covers everything, then sprinkle with the cheese.
Cook for 20 minutes in the oven until the top is golden.