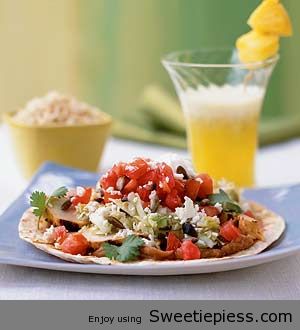 Ingredients
2 pounds boneless skinless chicken breasts
½ cup Italian dressing
4 cloves garlic, minced
½ Tbls chili powder
½ Tbls ground cumin
1 (1oz) packet Ranch Dressing Mix
½ cup water (I forgot this part)
Tostadas
Tostada shells (prepackaged or corn tortillas crisped in the oven)
Lettuce
Tomato
Black Olives
Cheese
Refried Beans
Salsa
Guacamole
Instructions
Combine everything but the chicken in the bottom of a slow cooker. Mix until well combined. Add chicken, tossing to coat. Cook on low for 7-8 hours.
Once the chicken is cooked, use 2 forks to shred the meat. Add back to slow cooker, and mix with all the juices.
Preheat oven to 350 degrees. Heat tostada shells for 2 minutes per side.
Top each tostada shell with desired toppings.