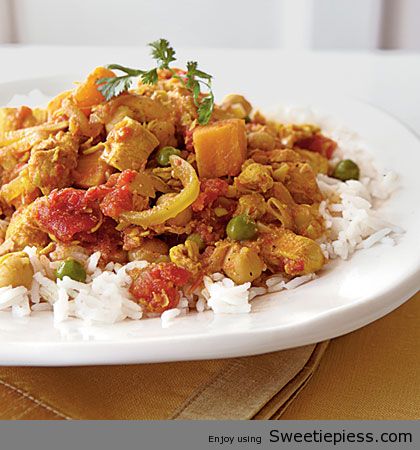 Ingredients
2 teaspoons curry powder
1 teaspoon ground coriander
1 teaspoon ground turmeric
1/2 teaspoon salt
1/2 teaspoon black pepper
1/4 teaspoon ground red pepper
1 bay leaf
1 1/2 teaspoons olive oil
1 1/2 pounds skinless, boneless chicken breast, cut into 1-inch pieces $
1 1/2 cups vertically sliced onion
1 1/2 teaspoons minced peeled fresh ginger
2 garlic cloves, minced
1 (14-ounce) can fat-free, less-sodium chicken broth
1 (14.5-ounce) can diced tomatoes, undrained
2 cups (1/2-inch) cubed peeled sweet potato
3/4 cup canned chickpeas, rinsed and drained
1/2 cup frozen green peas
1 tablespoon fresh lemon juice
Preparation
1. Combine curry powder, coriander, turmeric, salt, black pepper, red pepper, and bay leaf in a small bowl.
2. Heat oil in a large Dutch oven over medium-high heat.
Add chicken to pan; sauté 5 minutes or until browned, stirring occasionally.
Remove chicken from pan.
Reduce heat to medium.
Add onion to pan; cook 10 minutes or until tender, stirring frequently.
Increase heat to medium-high; return chicken to pan.
Cook 1 minute, stirring occasionally. Stir in ginger and garlic; cook 1 minute, stirring constantly.
Add curry powder mixture; cook 2 minutes, stirring constantly.
Add broth and tomatoes; bring to a boil. Cover, reduce heat, and simmer 1 hour.
Stir in potato and chickpeas. Cook, uncovered, 30 minutes.
Add peas; cook 5 minutes or until thoroughly heated.
Remove from heat; stir in lemon juice. Discard bay leaf.
Wine note: The dish's bold flavors can overpower the more delicate nuances of any wine,
so opt for a refreshing white blend. PromisQous has a touch of sweetness to cut the heat,
while its citrus and floral aromas rise above the complex flavors