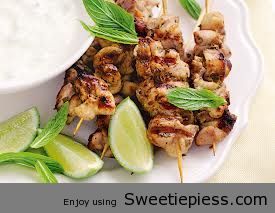 Ingredients
Chicken:$
2 tablespoons fresh lemon juice
1 teaspoon olive oil
1/2 teaspoon salt
1/4 teaspoon crushed red pepper
1/4 teaspoon crushed black pepper corns
2 garlic cloves, minced
1 pound skinless, boneless chicken breast, cut into 1-inch pieces Cooking spray
Mint sauce:
2 (1 1/2-ounce) slices white bread $
3/4 cup packed fresh mint leaves (about 3/4 ounce)
1 tablespoon extravirgin olive oil
2 teaspoons white wine vinegar
1/2 teaspoon salt
2 garlic cloves, minced
1/2 cup water
Preparation

To prepare chicken, combine first 6 ingredients in a large zip-top plastic bag. Add chicken; seal and marinate in refrigerator 15 minutes, turning bag occasionally. Remove chicken from bag; discard marinade.
Prepare grill.
Thread chicken pieces onto 6 (8-inch) skewers. Place skewers on grill rack coated with cooking spray; grill 8 minutes or until chicken is done, turning frequently.
To prepare mint sauce, place bread slices in a food processor, and pulse until coarsely crumbled. Add mint, olive oil, white wine vinegar, 1/2 teaspoon salt, and 2 garlic cloves; pulse until combined. With processor on, slowly pour water through food chute, and process until smooth and well blended.