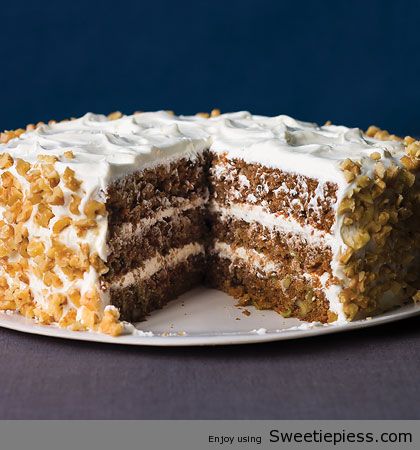 Ingredient : 
2 cups flour
1 1/2 cups granulated sugar
2 1/4 teaspoons baking soda
1 1/2 teaspoons baking powder
1 1/2 teaspoons cinnamon
1/4 teaspoon ground cloves
1/4 teaspoon ground nutmeg
2 teaspoons unsweetened cocoa powder
1/8 teaspoon freshly ground black pepper
1/4 teaspoon salt
1 cup vegetable oil
4 large eggs plus 1 egg yolk, lightly beaten $
1 1/2 cups packed coarsely grated carrots (about 3 medium) $
1 1/2 cups packed coarsely grated tart apples, such as Granny Smith (about 2 medium)
1 cup coarsely chopped walnuts, plus more for garnish $
10 ounce fresh, mild chèvre (goat cheese), at room temperature $
8 ounces cream cheese, at room temperature $
2 tablespoons unsalted butter, at room temperature
1 teaspoon vanilla extract
2 cups powdered sugar
Preparation
1. Preheat oven to 350°. Grease three 9-in. round cake pans and set aside. In a large bowl, combine flour, granulated sugar, baking soda, baking powder, spices, cocoa, pepper, and salt. Whisk to combine, then stir in oil and eggs. Stir in carrots, apples, and 1 cup walnuts.
2. Divide batter among pans and bake until cakes pull away from pan sides and a cake tester inserted in each center comes out clean, 25 minutes. Transfer cakes to cooling racks and let cool 10 minutes. Turn out onto racks and let cool completely.
3. Beat goat cheese, cream cheese, butter, and vanilla until smooth and fluffy, about 3 minutes. Gradually add powdered sugar and mix until combined.
4. Once cakes are cool, arrange first layer on a large plate or platter. Spread some frosting over it, then top with second layer. Frost second layer and top with the third. Generously frost top and sides of cake with remaining frosting. Chill cake at least 1 hour. Before serving, press walnuts lightly into sides of cake.
Note: Nutritional analysis is per serving.