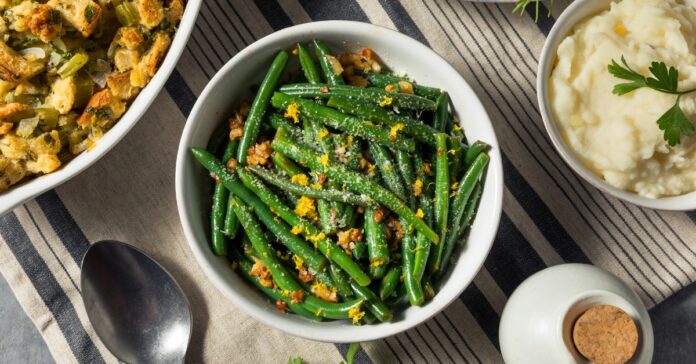 The Green Beans Recipe belongs to the Side Dish category. It is a versatile and nutritious dish that can complement a variety of meals. This recipe features tender green beans that are cooked to perfection and seasoned with aromatic herbs and spices. It is a popular choice for adding color, flavor, and texture to your plate. Whether served as a side dish for a holiday feast or as a simple weeknight accompaniment, this green beans recipe is sure to be a delicious and wholesome addition to your menu.
 Green Beans Recipe Information
Serving size: 4
Ingredient:
6 cups frozen green beans
1 small russet potato peeled and cubed
1 1/2 cups of water
5 tablespoons chicken stock
4 tablespoons butter
1 1/3 teaspoon granulated garlic
2 tablespoons chopped onions
1/2 teaspoon crushed red pepper
4 tablespoons sugar
salt and pepper to taste
Directions:
In a medium-sized pot, combine water, butter, and chicken stock. Bring the mixture to a boil over medium-high heat.
Add garlic and potato to the boiling mixture. Cook for approximately 10 minutes or until the potato begins to soften. This step helps infuse the flavors into the potato.
Reduce the heat to medium-low. Add green beans, onions, red pepper, and sugar to the pot. Stir well to combine the ingredients.
Simmer the mixture for about 10 minutes or until the green beans are tender. The simmering process allows the flavors to meld together and ensures the beans are cooked to the desired texture.
Taste and season with salt and pepper if desired. Adjust the seasoning according to your preference.
Serve the green beans hot as a flavorful and nutritious side dish.
Note: You can customize this recipe by adding additional herbs, spices, or seasonings according to your taste preferences. Enjoy