Chicken Pot Pie Recipe
Chicken Pot Pie is a comforting and classic dish that combines tender chicken and flavorful vegetables in a creamy sauce, all enclosed in a flaky pastry crust.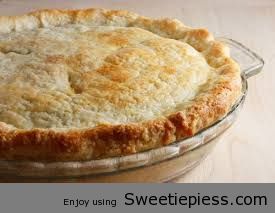 Ingredients:
Puff pastry sheet for Topper
1 cup chopped leek (3 medium) or onion (1 large)
1 cup sliced fresh mushrooms
¾ cup sliced celery (1-½ stalks)*
½ cup chopped red sweet pepper (1 small)
2 tablespoons butter or margarine
⅓ cup all-purpose flour
1 teaspoon poultry seasoning
¼ teaspoon salt
¼ teaspoon black pepper
1-½ cups chicken broth
1 cup half-and-half, light cream, or milk
2-½ cups chopped, cooked chicken
1 cup loose-pack frozen peas or frozen peas and carrots**
1 egg, beaten
Instructions for home-made Chicken Pot Pie Recipe:
Preheat your oven to 400°F (200°C).
In a large saucepan, melt butter over medium heat. Add leeks (or onions), mushrooms, celery, and red pepper. Cook for 4 to 5 minutes, or until the vegetables are tender.
Stir in the flour, poultry seasoning, salt, and black pepper. Gradually add chicken broth and half-and-half, stirring continuously until the mixture thickens and becomes bubbly.
Stir in the cooked chicken and frozen peas (or peas and carrots). Mix well.
Pour the chicken mixture into a 2-quart rectangular baking dish.
Place the puff pastry sheet over the chicken mixture in the dish. Turn the edges of the pastry under and flute with a fork to seal it to the edges of the dish. Brush the pastry with the beaten egg.
If desired, you can also decorate the pastry with cut-out pastry shapes. Brush them with the beaten egg as well.
Bake the pot pie in the preheated oven for 30 to 35 minutes, or until the crust turns golden brown and crispy.
Once baked, let the pot pie stand for 20 minutes before serving to allow it to set.
Additional Tips:
For convenience, you can use cooked rotisserie chicken or leftover cooked chicken for this recipe.
Feel free to add your favorite herbs or spices to customize the flavor of the filling.
Serve the Chicken Pot Pie as a wholesome and satisfying main course for a comforting meal.
Enjoy your delicious homemade Chicken Pot Pie!