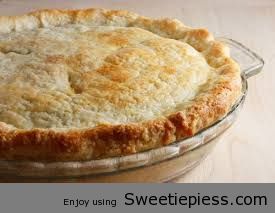 Ingredients : 
Puff pastry sheet for Topper
1 cup chopped leek (3 medium) or onion (1 large)
1 cup sliced fresh mushrooms
¾ cup sliced celery (1-½ stalks)*
½ cup chopped red sweet pepper (1 small)
2 tablespoons butter or margarine
⅓ cup all-purpose flour
1 teaspoon poultry seasoning
¼ teaspoon salt
¼ teaspoon black pepper
1-½ cups chicken broth
1 cup half-and-half, light cream, or milk
2-½ cups chopped, cooked chicken
1 cup loose-pack frozen peas or frozen peas and carrots**
1 egg, beaten
How To Prepare : 
1. In a large saucepan cook leeks, mushrooms, celery, and red pepper in butter over medium heat for 4 to 5 minutes or until vegetables are tender. Stir in the flour, poultry seasoning, salt, and pepper. Add broth and half-and-half. Cook and stir until thickened and bubbly. Stir in chicken and remaining vegetables (your choice). Pour into a 2-quart rectangular baking dish.
2. Place pastry over chicken mixture in dish. Turn edges of pastry under; flute with a fork to edges of dish. Brush pastry with some of the egg. If desired, place cut-out pastry shapes on top of pastry. Brush again with egg.
3. Bake, uncovered, in a 400° F oven for 30 to 35 minutes or until crust is golden brown. Let stand for 20 minutes before serving.