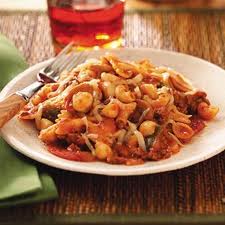 Ingredients 
1 large green bell pepper, diced
1 large onion, diced
2 ounces (1/2 stick) margarine
1 teaspoon garlic powder
1 pound assorted pasta (wheels, shells, spirals, ziti)
1/2 pound pepperoni. sliced thin then cut in half
8 ounces mozzarella cheese, shredded
1/2 pound hamburger, browned
1/2 pound Italian sausage, browned
1 (16 ounce) jar meat flavored Prego sauce
Melt margarine over medium high heat in a skillet. Add onions, peppers, and garlic powder. Saute for about 4 minutes.
Meanwhile, cook pasta according to box directions.
Heat sauce and combine with cooked hamburger and cooked sausage.
How To Cook :
1. Use cooking spray to lightly grease a 13 x 11-inch casserole dish.
2. Place 1/2 of the cooked pasta in the dish, followed by 1/2 the vegetables.
3. 1/2 of the pepperoni and 1/2 sauce.
4. Repeat another layer. Spread mozzarella cheese over top.
5.  Bake at 350 degrees F for about 45 minutes or until cheese is melted.