Best Italian Lasagna Recipe
Italian lasagna is a classic Italian dish that is known and loved worldwide. It belongs to the category of pasta dishes and is typically categorized as a type of baked pasta or casserole. Lasagna consists of multiple layers of wide, flat pasta sheets, alternating with various fillings and sauces, such as meat ragù, béchamel sauce, and grated cheese.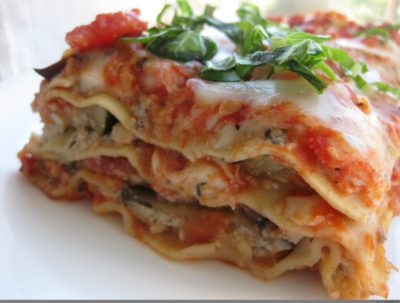 Our Best Italian Lasagna Recipe is one of the most favorite recipes in the USA as it might be great made by way of Miss Robbie's display sweetie pies.
Ingredients
1 pound sweet Italian sausage
3/4 pound lean ground beef
1/2 cup minced onion
2 cloves garlic, crushed
1 (28-ounce) can of crushed tomatoes
2 (6-ounce) cans of tomato paste
2 (6.5 ounces) cans of canned tomato sauce
1/2 cup water
2 tablespoons white sugar
1 1/2 teaspoons dried basil leaves
1/2 teaspoon fennel seeds
1 teaspoon Italian seasoning
1 tablespoon salt
1/4 teaspoon ground black pepper
4 tablespoons chopped fresh parsley
12 lasagna noodles
16 ounces of ricotta cheese
1 egg
1/2 teaspoon salt
3/4 pound mozzarella cheese, sliced
3/4 cup grated Parmesan cheese
Directions of Best Italian Lasagna Recipe:
In a Dutch oven or large pot, cook the sweet Italian sausage, ground beef, minced onion, and crushed garlic over medium heat until well browned.
Stir in the crushed tomatoes, tomato paste, tomato sauce, and water.
Season the sauce with white sugar, dried basil leaves, fennel seeds, Italian seasoning, 1 tablespoon of salt, ground black pepper, and 2 tablespoons of chopped fresh parsley.
Simmer the sauce, covered, for about 1 1/2 hours, stirring occasionally to let the flavors meld together.
In the meantime, bring a large pot of lightly salted water to a boil. Cook the lasagna noodles in boiling water for 8 to 10 minutes until they are al dente (firm but cooked). Drain the noodles and rinse them with cold water to prevent sticking.
In a mixing bowl, combine the ricotta cheese with the egg, remaining chopped fresh parsley, and 1/2 teaspoon of salt. Mix well to create the ricotta cheese mixture.
Preheat the oven to 375 degrees F (190 degrees C).
To assemble the lasagna, spread 1 1/2 cups of the meat sauce in the bottom of a 9×13 inch baking dish.
Arrange 6 lasagna noodles lengthwise over the meat sauce.
Spread half of the ricotta cheese mixture over the noodles.
Layer a third of the mozzarella cheese slices on top of the ricotta cheese mixture.
Spoon 1 1/2 cups of the meat sauce over the mozzarella cheese and sprinkle with 1/4 cup of grated Parmesan cheese.
Repeat the layers by adding another layer of noodles, the remaining ricotta cheese mixture, another third of mozzarella cheese slices, 1 1/2 cups of meat sauce, and 1/4 cup of grated Parmesan cheese.
Top the lasagna with the remaining mozzarella cheese slices and grated Parmesan cheese.
Cover the dish with foil. To prevent sticking, you can either spray the foil with cooking spray or ensure that the foil does not touch the cheese.
Bake the lasagna in the preheated oven for 25 minutes.
Remove the foil and bake for an additional 25 minutes, or until the top is golden brown and the cheese is melted and bubbly.
Allow the lasagna to cool for 15 minutes before serving to let it set.
Serve the Best Italian Lasagna recipe warm, and enjoy!